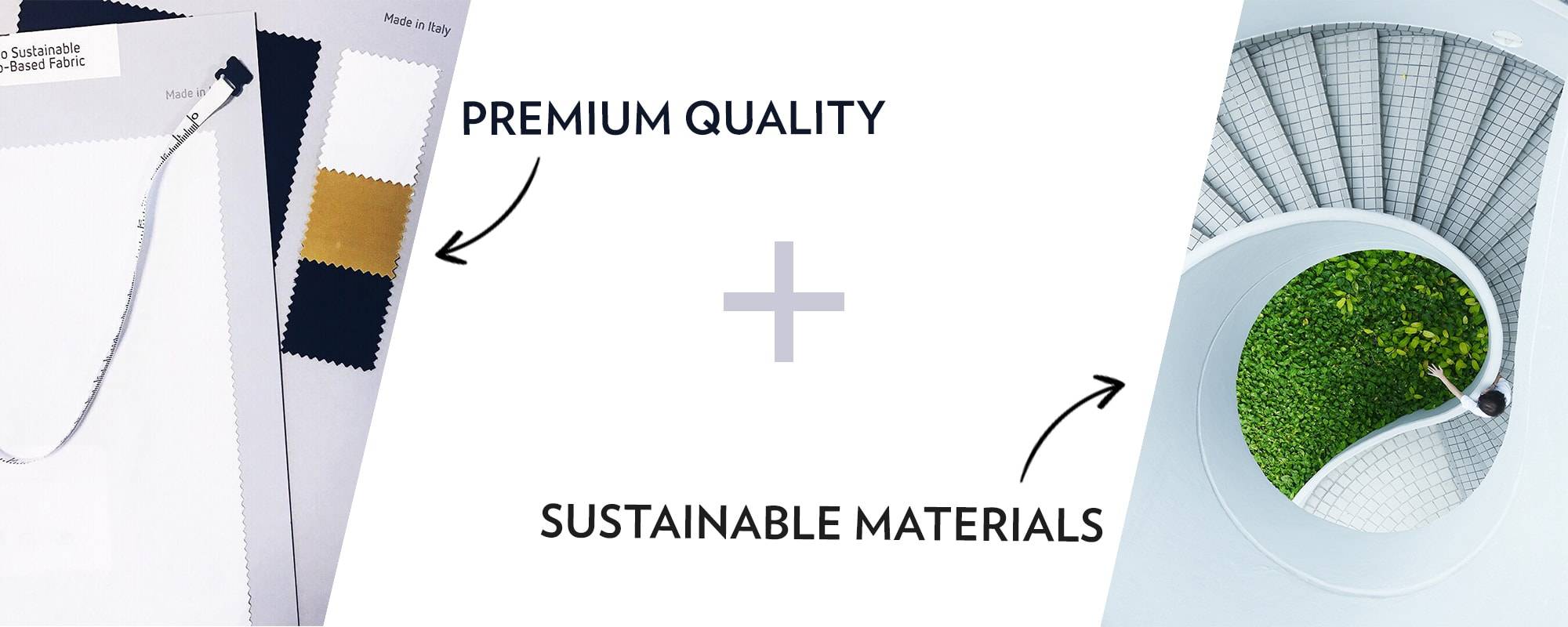 At Svenklas, we scour the world to find the best suppliers for our fabrics to make sure they are premium quality and best in class. We select them for their quality, hand feel, effect on our environment and (super powers!)
We want you to cherish our backpacks for years to come. And since we want our products to last for the long haul, we only use premium quality materials.
From the mountains in Argentina to the alleys of Italy, Turkey and Spain, we go everywhere in search of highest quality fabrics. We've made it our mission to search the world for the finest fabrics and we are dedicated in our quest to bring these to you in a sustainable way.
Keep scrolling and we'll take you through what that means.

Although we strive to produce long lasting products, we want to do it in a manner which has a minimal impact on our environment. We take responsibility for our planet by making conscious choices while sourcing our materials. With sustainability as our end goal, we assess the impact of our products throughout their life cycle and make sure we produce our products with care for our environment.
We also have strict implementation for the kind of chemicals that can be used in our production so that their impact on the environment is minimized.
All of our leather has one thing in common - it's carefully selected for its high quality and environmental sustainability. We choose to source only the best and premium quality leather as we want our products to last a life time. We source our leather directly from certified local factories in Italy, Turkey, Spain and Argentina. Our suppliers work closely with Leather Working Group(LWG) organization to reduce the environmental impact of leather and improve environmental performance in the leather industry. Our leather is environmentally and LWG certified based on metrics like sustainability, durability, quality and the ability to age gracefully.
Converting animal hides into leather is achieved by a process called tanning and the process we use for tanning our leather is vegetable tanning. Vegetable tanning involves soaking the hides in a bath of natural materials that releases tannins to get a deep color that gets better with age. The vegetable tanning process uses natural tannins from various parts of plants including bark, leaves, roots, flowers and fruit. This makes the leather stronger and results in aging of leather in a beautiful way. We use the strongest fibres in the hide and no artificial pigments are used to conceal natural defects in the leather.
Once the tanning is complete, all of our leather is aniline dyed which helps in preserving the natural characteristic of leather. Aniline dye is a water-based dye and is friendlier to the environment since it does not contain any added pigments. We never use synthetic azo dyes for dyeing purpose.
Since we use only high quality hides, some scratches and imperfections may be visible and such variations should not be considered as defect. Infact, they are a sign that premium quality natural hides have been used while crafting the product. The different types of leather used in our products include full grain aniline dyed leather while we use top grain for leather detailing. A lot of times the usage is dependent on the considered end-use and the product we're making but we never use anything else.
You can read more about The Language of Leather here.
Our products are made from highly durable 12 oz Organic Cotton Canvas, which means that our products will always endure the test of time. The thickness of the canvas is measured in oz per square foot. We use the lightweight 12 oz so that our products are lighter while maintaining high levels of durability.
We make sure our cotton is sourced directly from farms which use organic fertilizers and less water to grow cotton, leading to a positive effect on both the environment and farmers working on the cotton farms. This benefits the cotton growing regions and also helps cotton farmers work under good conditions and create a better standard of living for their families.
The dyeing process involves the use of non-toxic dyes where the canvas is doubly dyed for rich dye penetration, increase the absorbency and softness. The cotton absorbs most of the dye and dyed water is fully recycled. We don't use toxic mordants and our dyes contains no heavy metal particles. This makes for a sustainable, durable and lightweight fabric.
Our Recycled Polyester is made from 100% recycled PET bottles. The process of renewing non-biodegradable plastic bottles gives them a new life and uses less natural resources like water, energy and fossil fuels than regular polyester. Around 25 discarded PET bottles are used in making a single beautiful and durable product in recycled polyester fabric.
The recycled polyester reduces our dependence on virgin petroleum-based materials, utilises post-consumer waste and reduces greenhouse gas emissions from manufacturing.